Presented By
"Man needs difficulties; they are necessary for health."
– Carl Jung
_The Daily Tonic is a two to five minute read sharing science backed
health news and tips, all while getting you to crack a smile or even_ lol on occasion.
Monday. Here is a brain twister to kick off your week. What is somethingthat will soon be phased out for use on your lawn, but will still be legal touse on your food? Man, that's a real head scratcher. How can something beunsafe for your lawn, but safe on the food you eat? Let's dive in.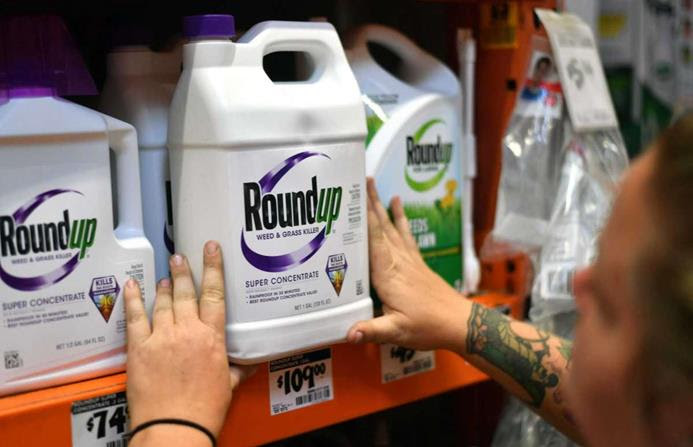 These Dang Busters!
Bayer-owned Monsanto isn't necessarily known to be a beacon of health. Thebrand is known for making RoundUp, the weedkiller that has been tied by manystudies to increased risk ofcancer.Well, on the bright side, Bayer company officials justannouncedthat the company will phase out the sale of glyphosate-based products,including Roundup, starting in 2023. Ok, so first of all–why 2023? If you aregoing to phase out, let's start now. 2023 is a long ways away. Call me crazy,but I think that exposing people to cancer causing chemicals is one of thosethings we should handle ASAP, not two years down the road. Second of all, itis important to note that the phase out of sales will only apply toglyphosate-based products meant for residentialuse . Thestuff your gardener sprays on your lawn–no good. The stuff that is used on GMOcorn and soy converted into food products and animal feed–that stuff is stillgood to go. How does that make any sense? According to Bayer/Monsantoofficials, the only reason they are institutting this phase out is "to managelitigation risks and not because of any sort of safety concern."Bayer/Monsanto is holding strong to their claim that Roundup and glyphosateare safe. That's their story and they are sticking to it. You almost have torespect the conviction… almost… tough to respect the whole cancer-causingpiece though. So it turns out this phase out is all because a couple of beancounters over at Bayer HQ ran the numbers and realized that the settlementchecks the company has been writing lately to cancer victims exposed to theirchemicals are getting pretty hefty. For this reason, and this reason alone, itno longer makes financial sense for them to sell their products forresidential use. It is all just a math equation–this has nothing to do withany real concern for anyone's health. This is why they aren't phasing outtheir business that goes towards food production. That business still makesfinancial sense. Instead, the company just plans to set aside some cash forsettlements. The price of giving someone cancer is just a line item on the P&Lfor them. The solution? Hit these guys where it hurts. Shop non-GMO, avoidplant-based faux meat made of soy like the plague, and avoid conventionallyraised meat as best you can as well. Remember, GMO monoculture crops aregenetically modified so that they are resistant to glyphosate and otherpesticides and herbicides. This allows food producers to spray these cropsliberally, leaving residue of the dangerous chemicals and allowing it toeventually make its way into our foods if we aren't careful.
If you're looking for some feel-good food that's good for you…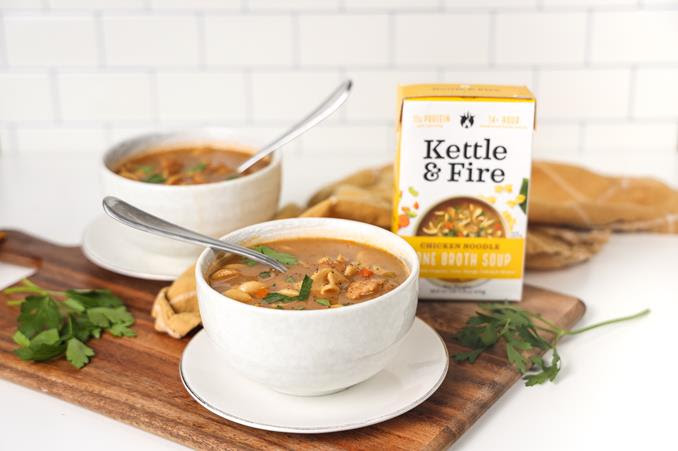 …you'll love this soup from Kettle & Fire.
Shredded pieces of white meat chicken, slow-simmered bone broth, durum wheatnoodles, carrots, celery, and onions. A pinch of nutritional yeast for aflavorful boost of protein, vitamins, minerals, and antioxidants. And that'sit. No sweeteners. No emulsifiers or preservatives. Just real chicken noodlewith the classic, cozy homemade feeling you love. Use code DAILYTONIC15 atcheckout to save 15%!
Feel-Good Soup, Feel-GoodDiscount
Where Would We Be Without Our Helpful Government?
Lost. We would be lost. In yet another example of impressive efficiency andincredible aptitude, the U.S government has done it again–taking taxpayerdollars and spending them in a way we can all feel good about (read withcomplete sarcasm, please). According to thisreport, bigcommercial farms (that probably love using glyphosate) got 10x more governmentassistance than smaller, family owned farms. Why would we want to supportsmall scale farms that are growing and raising healthier food to feed theirown communities locally? No, no, no. That would make too much sense. Supportthe big guys instead. Big food producers growing monoculture crops, sprayingRoundup, tilling and destroying soil. Those guys need the support. Allfacetiousness aside, farming operations of all sizes need support. There aremany big operations that would love to switch to more organic, regenerativeways of farming, but oftentimes they are unable to because the transition isso expensive. That is where our tax dollars and shopping dollars should go.Let's create incentives so that farms of all sizes can lead us to a healthierand more resilient food system. Here's to hoping the government can figurethat one out.
Tonic Shots
Share The Daily Tonic
3 Referrals: Free Digital Copy of Keto Answers by Anthony Gustin andChris Irvin 10 Referrals: Free Variety Pack of Perfect Keto Bars 15Referrals: Free Perfect Keto Collagen 25 Referrals: Free Kettle and FireBeef and Chicken Broth Bundle Share your unique referral link belowYour unique link:https://sparklp.co/02c34d15 You currently have 0referrals Share on Twitter,Emailor LinkedIn
Health isn't just about _ food, movement, and mindset . It is alsoabout the_ _ interactions _we have and what we _ share with our fellowhumans._
Forward this newsletter to someone you think would enjoy science backed healthnews and tips that will also make them smile.
Forwarded This Email? Subscribe HERE
Presented By
Use Code TDT for 15% Off