![](https://readdailytonic.com/wp-content/uploads/The-Daily-
Tonic_Logo-1024×181.png)"Milk without fat is like nonalcoholic Scotch."
– Andy Rooney
_The Daily Tonic is a two to five minute read sharing science backed
health news and tips, all while getting you to crack a smile or even_ lol on occasion.
Monday. If you grew up or did any parenting in the 90's, you remember themilk ad campaign that pretty much took over the world–Got Milk? Two words andcountless celebrities with milk mustaches was all it took to convince anentire generation that milk was essential for kids to build strong bones,strong teeth, grow tall, and avoid getting kidnapped at the mall. 30 yearslater–what's the deal with milk? Let's dive in.
But Really–Got Milk?
Let's start off with a brief history of the past few decades. Milk was toutedas a miracle beverage in the 90s. Then, as fat became more and more demonized,fat-free and reduced-fat dairy options started to gain popularity. Fastforward to the present day and you have billions of dollars pouring into thealternative dairy space. Oats, peas, cashews, almonds, hazelnuts–you name it.You can get milk from everything these days–and I mean EVERYTHING. The latestdarling in the fake milk space is NotMilk (clever name), using pineapple andcabbage to get what they claim is an alternative that tastes, cooks, andfroths just like real milk. Of course, they also use refined vegetable oils in theirconcoction, so I'd still recommend avoiding it at all costs. So what aboutmilk? Is real milk a healthy superfood or something we should cut out andreplace with your nut water of choice? As with anything that is health andnutrition related, the answer isn't simple. It depends. Raw milk from pastureraised cows that isn't processed in any way is a completely different beveragethan the pasteurized, homogenized stuff you'll find at the supermarket. Rawmilk is never heated, allowing the beneficial bacteria and nutrients that comestraight from the cow to remain alive and active. Milk sold at the grocerystore is always pasteurized, meaning it is heated to kill possible pathogensthat may cause illness, while also killing good probiotic bacteria in theprocess. Raw milk used to be the only way we produced and consumed milk. Whathappened was that as cities grew and dairy production became moreindustrialized, conditions became less sanitary. Instead of addressing thesanitation and the conditions that dairy cows were being raised in, we startedpasteurizing milk. Raw milk from an industrial dairy feedlot is bound to makeyou sick. But raw milk from a pasture raised cow, milked in sanitaryconditions–that stuff is probiotic-rich, nutrient dense, white gold–and mucheasier to digest. The problem is that under current food safety policies, allraw milk is looked at the same. Type in "raw milk" into the Google machine andall the top hits will tell you how dangerous raw milk is. Do a little moredigging and you'll find that there are many benefits to drinking rawmilk. Dig alittle deeper and you'll even find some good resources to help you legallysource raw milk in your area. Buying raw milk has its risks but so far there has beenno correlation between raw milk legalization and foodborne illnessoutbreaks.It all boils down to this–nut water and refined seed oil concoctions are badfor your health, raw milk is a great alternative for some, but it can be toughto source and fat free milk is silly, 2% milk even sillier.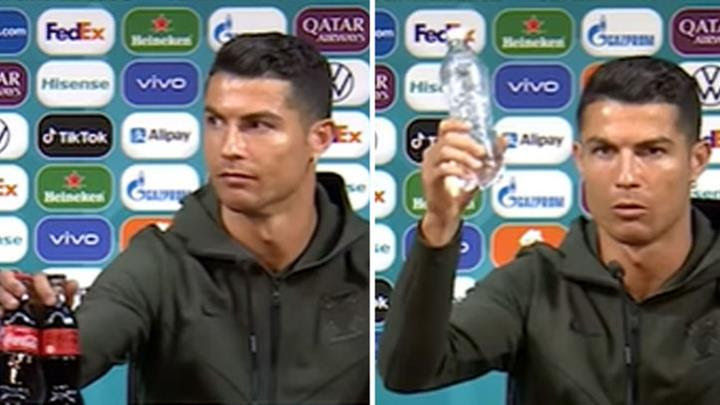 #SPORTS!
We don't cover sports on The Daily Tonic much, but this one ties into healthand nutrition quite nicely. Christiano Ronaldo, one of the most popular soccerplayers in the world, recently caused the market value of Coca-Cola to dropby $4 billion dollars. In a recent news conference at the Euro Cup, Ronaldo took thepodium to answer questions. Coca-Cola is a presenting sponsor of this year'stournament, so in typical sponsor fashion, they had two bottles of soda on thepodium in front of the soccer star as he took questions. I am sure Coca-Colapaid a lot of money for the product placement and surely they didn't expectwhat happened next. In one fell swoop, Ronalda removed the soda bottles fromthe table and replaced them with an unmarked water bottle, seemingly stressingthe importance of drinking water over soda. Not a big deal huh? Well, actuallyit is a very big deal when you are an international superstar and the firstperson to reach 300 million followers on Instagram. Coca-Cola stock pricestook a hit following the news conference. Well done, sir.
Tonic Shots
Health isn't just about _ food, movement, and mindset . It is alsoabout the_ _ interactions _we have and what we _ share with our fellowhumans._
Forward this newsletter to someone you think would enjoy science backed healthnews and tips that will also make them smile.
Forwarded This Email? Subscribe HERE
Presented By
Use Code TDT for 15% Off